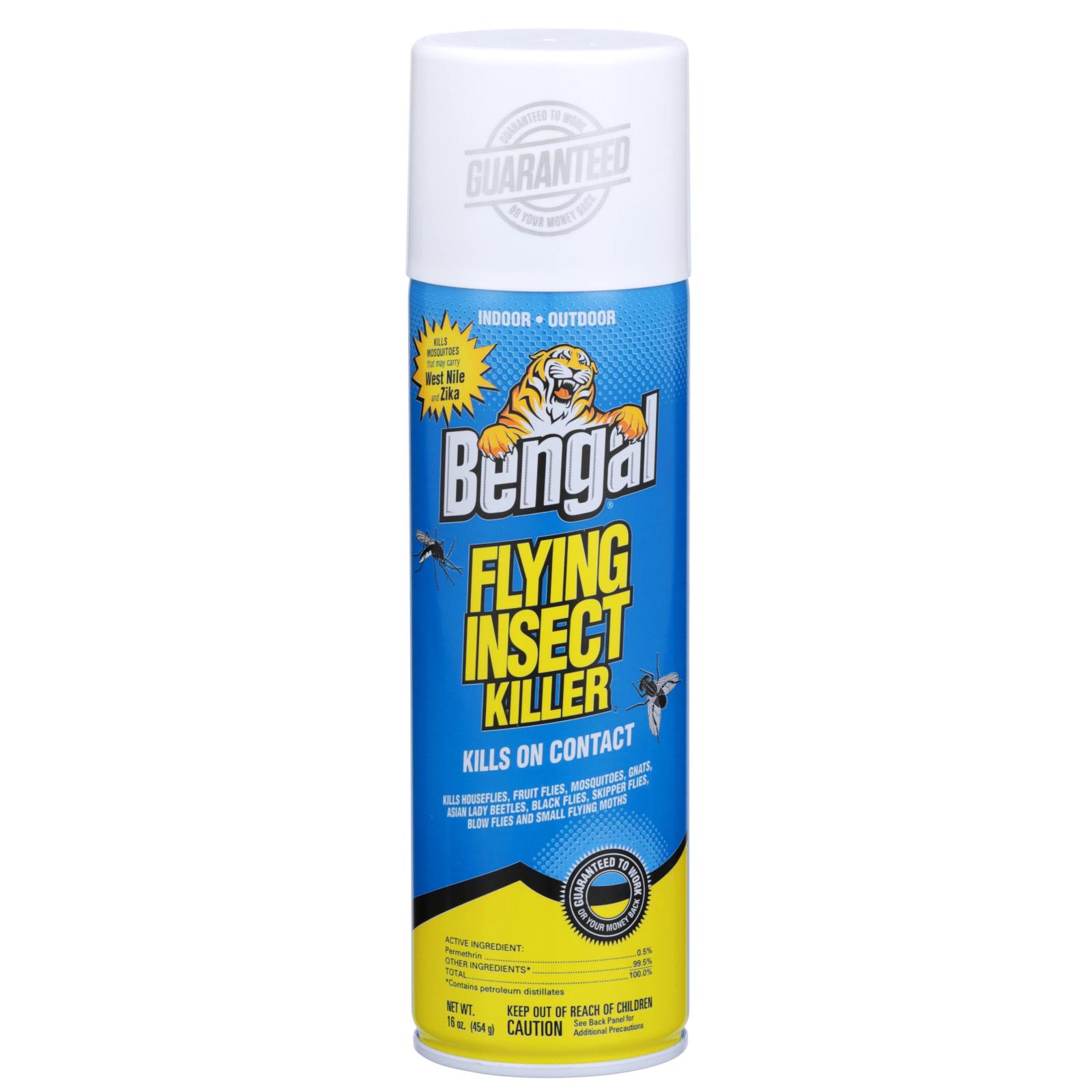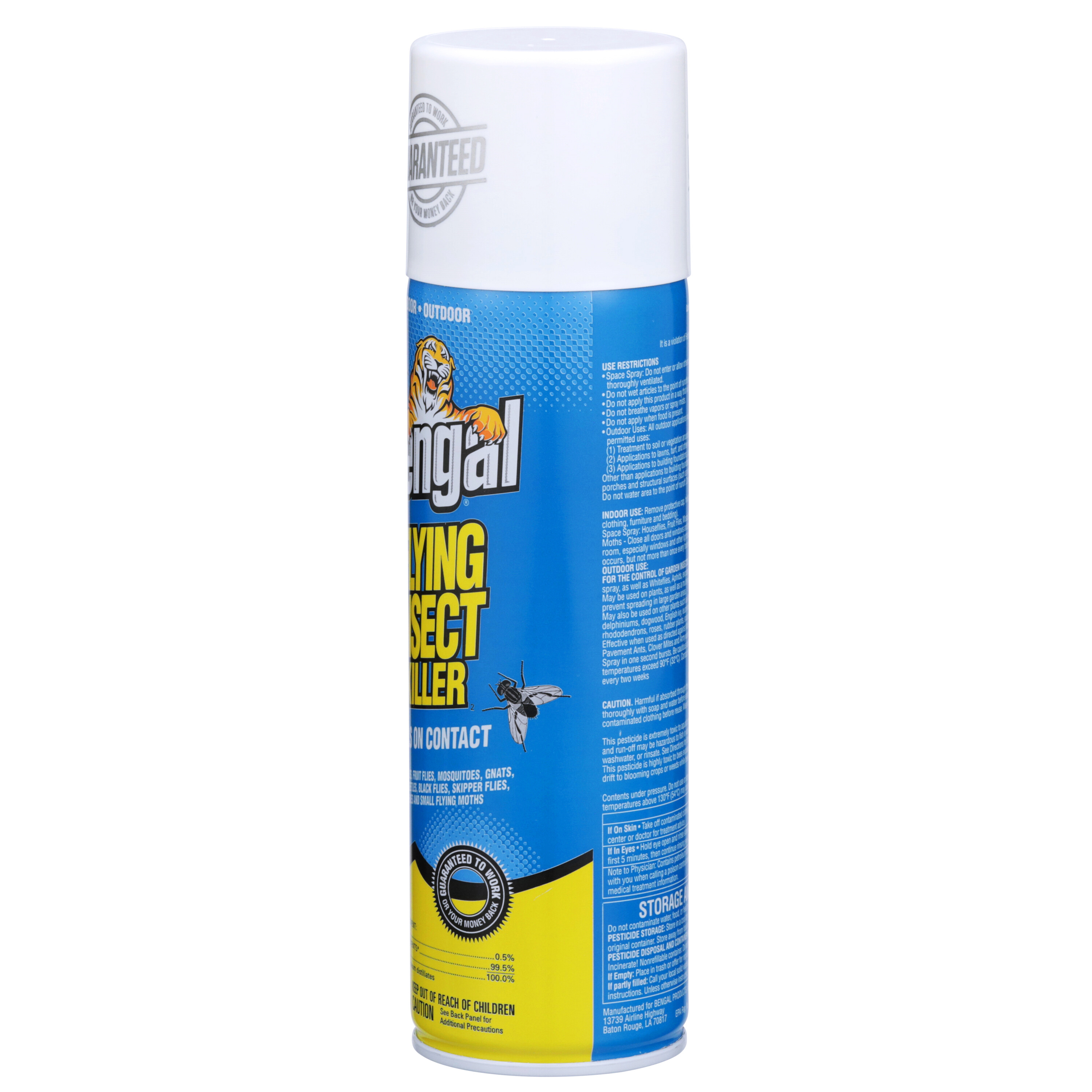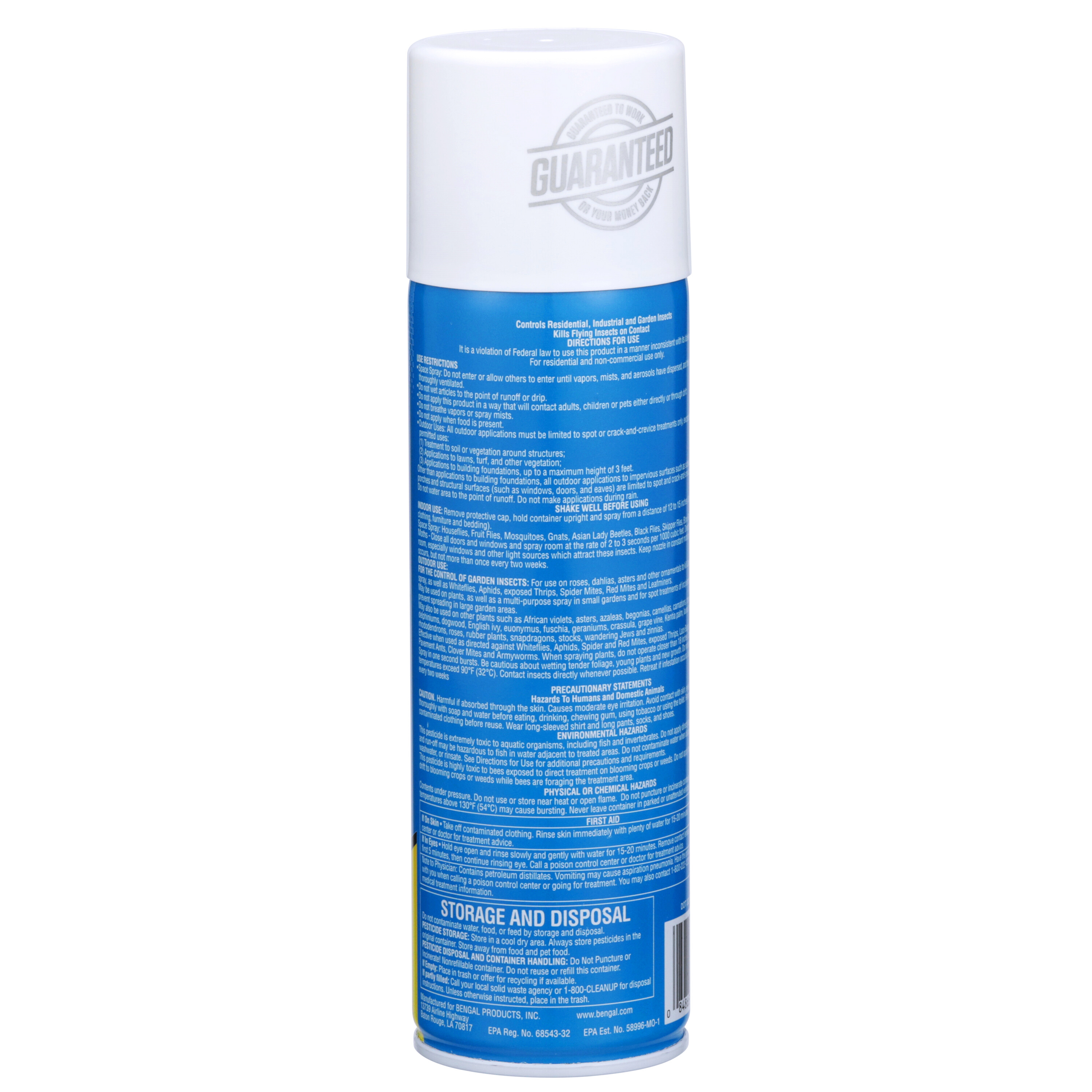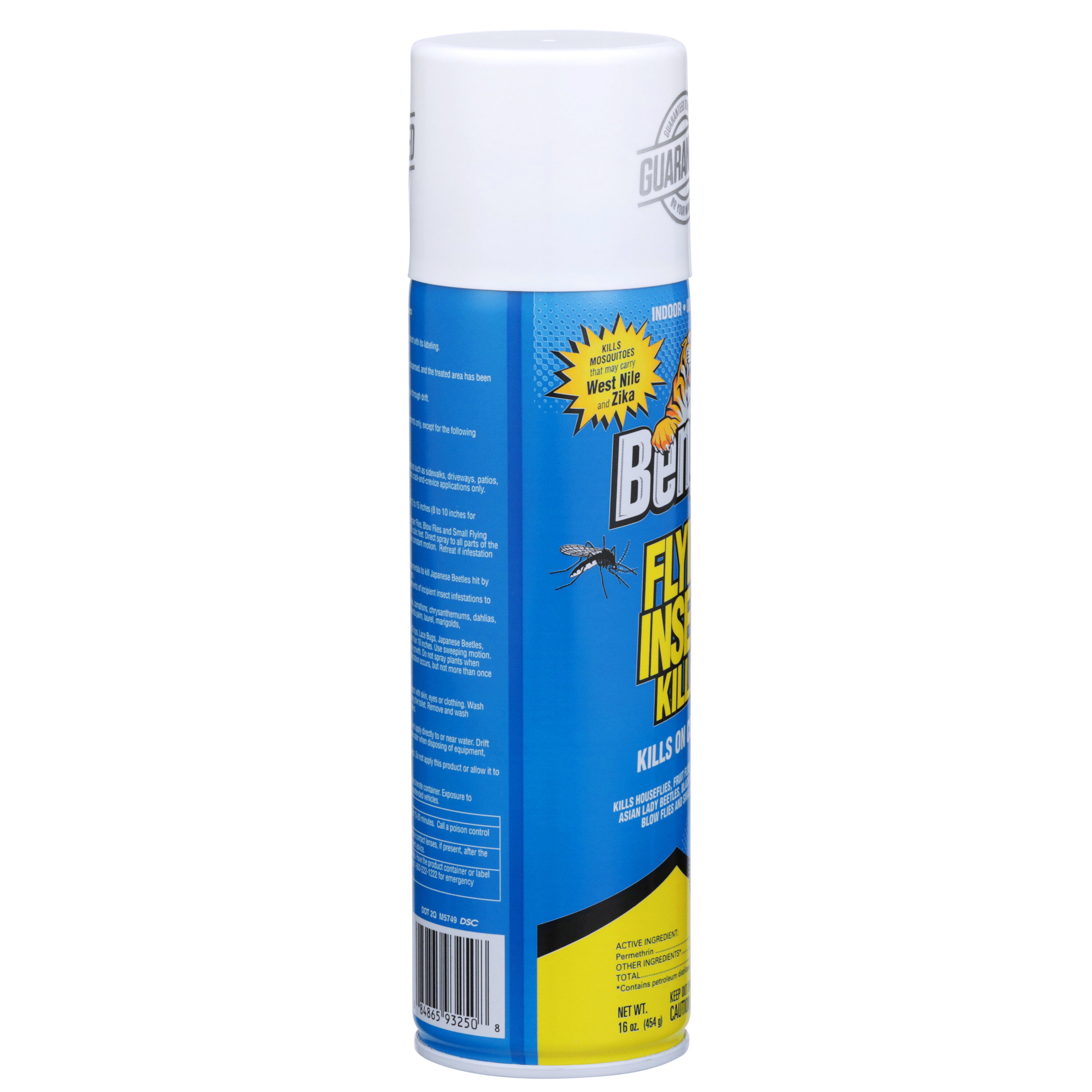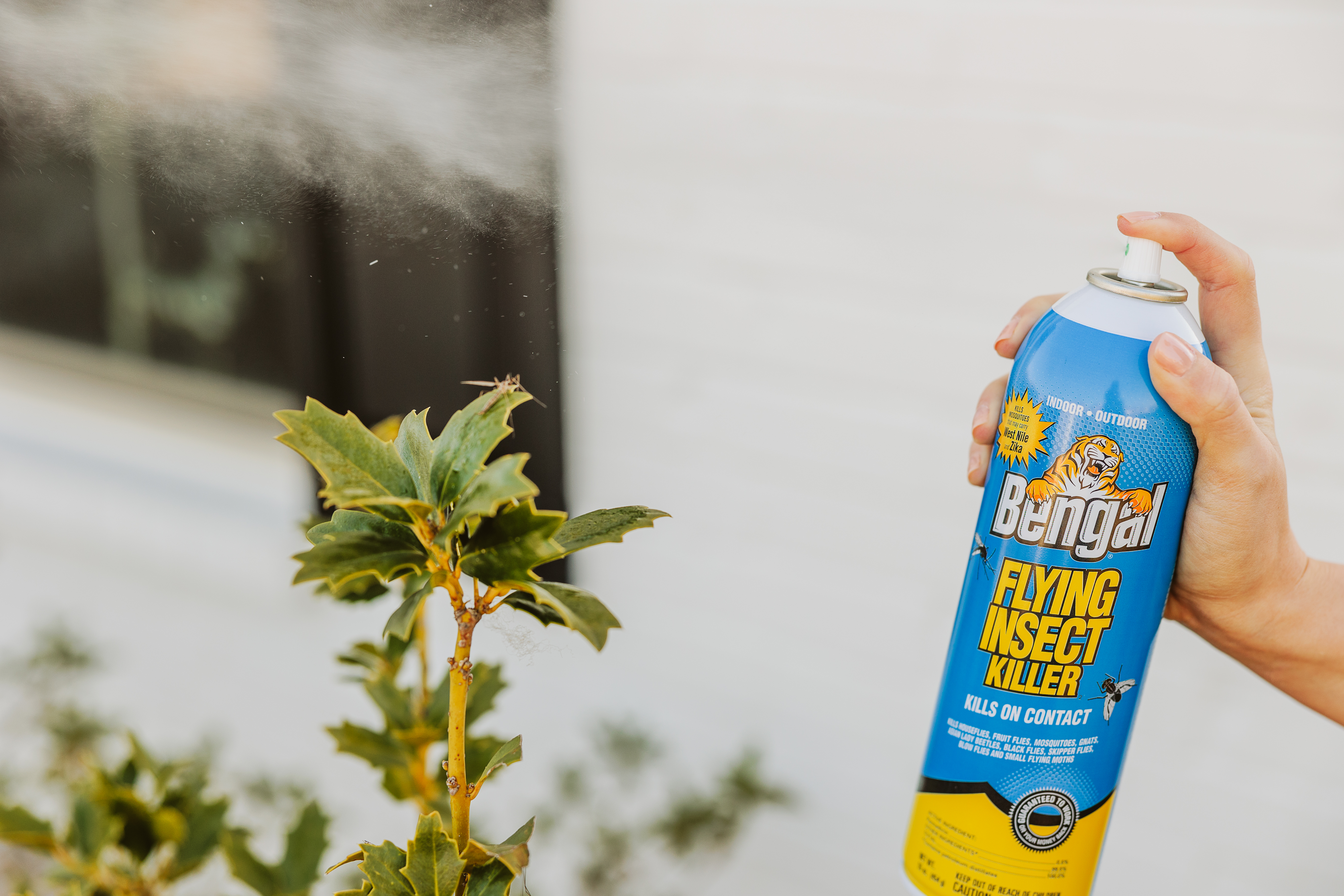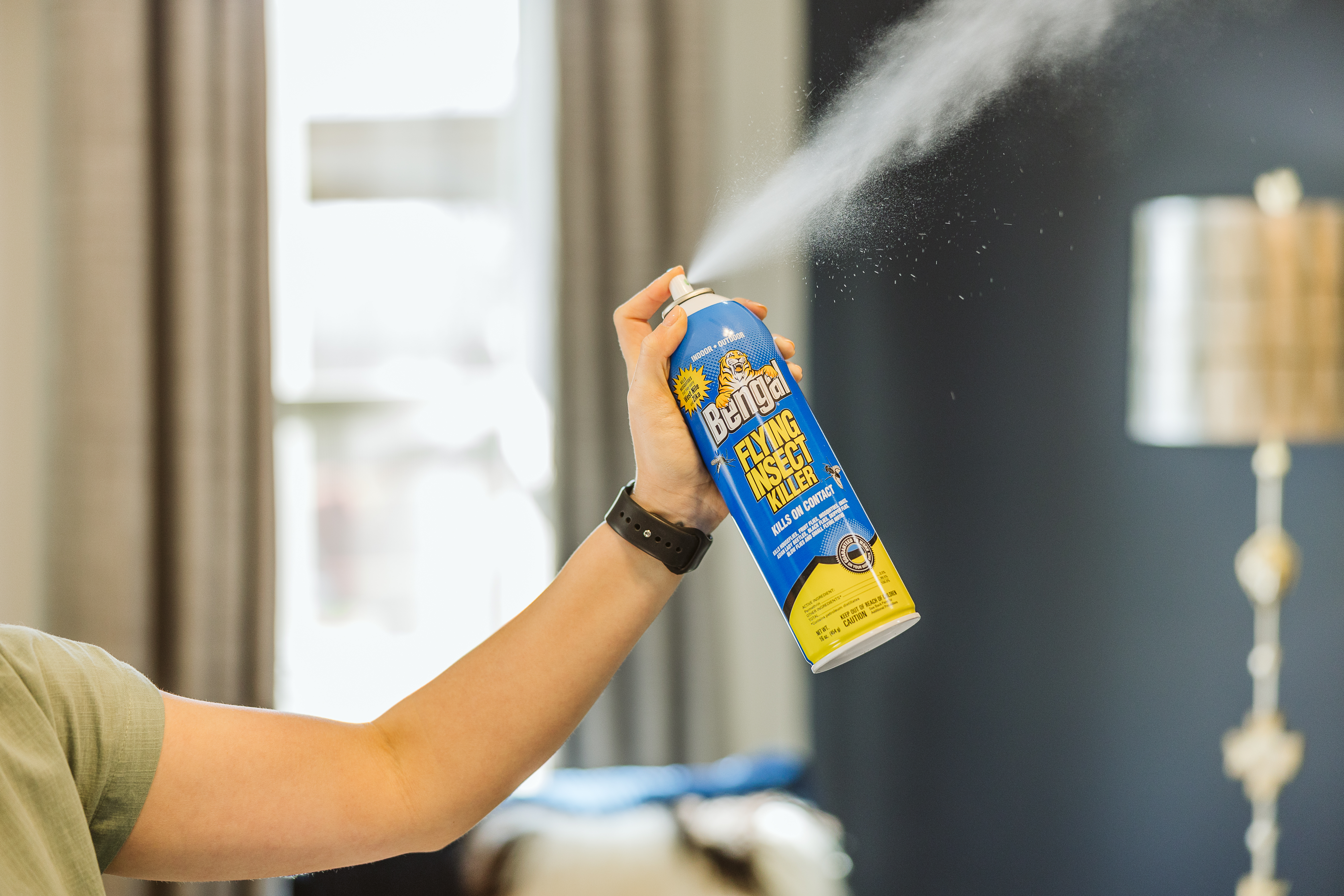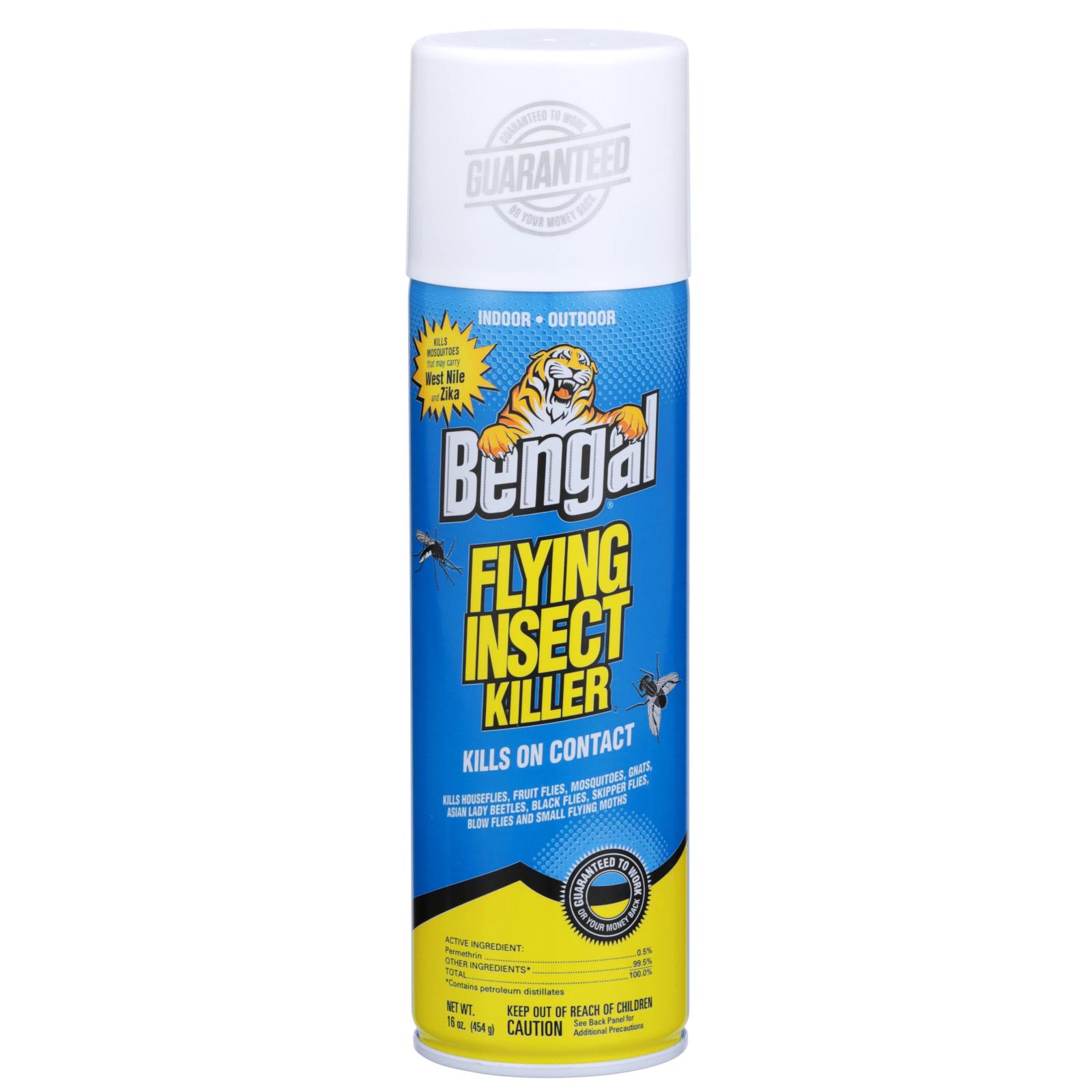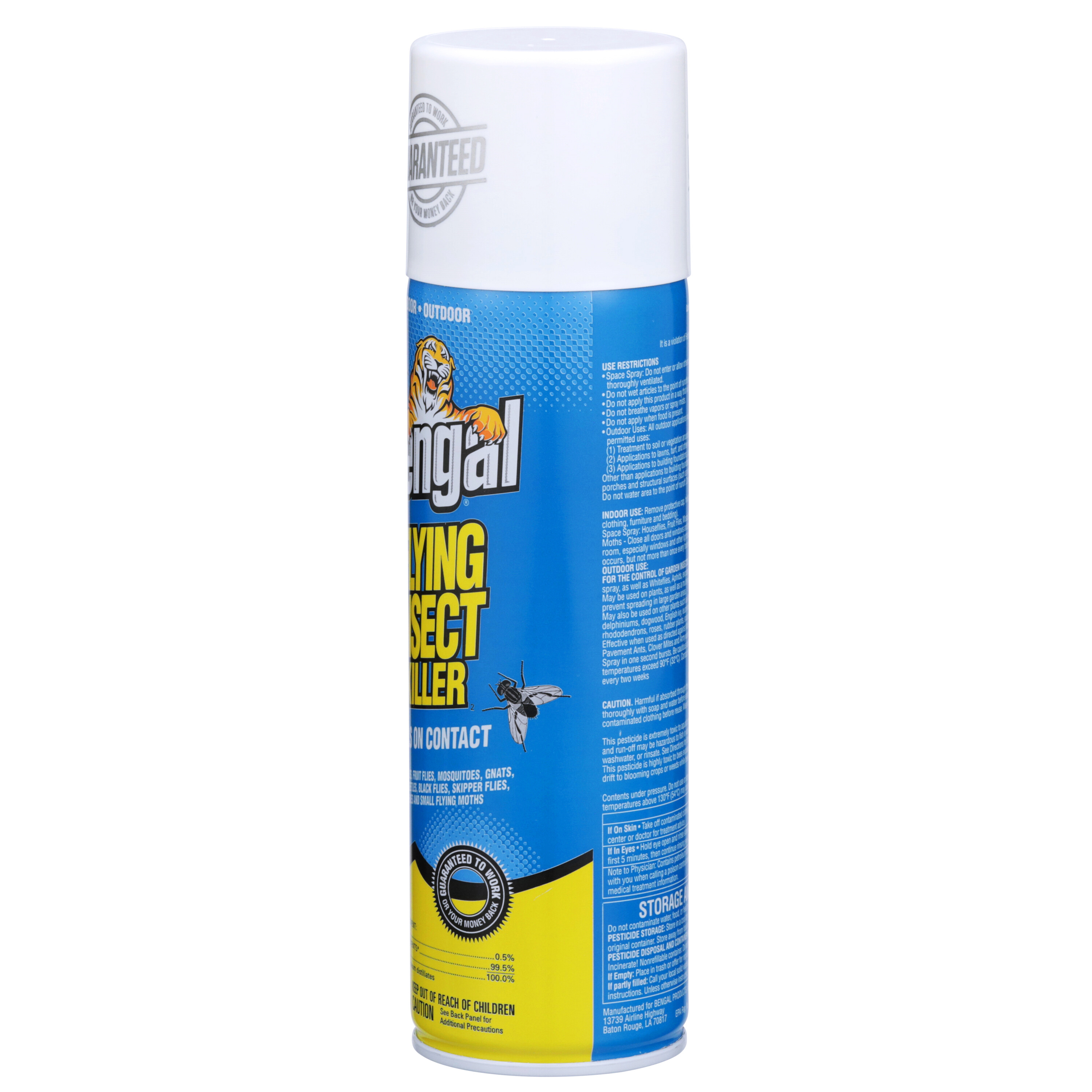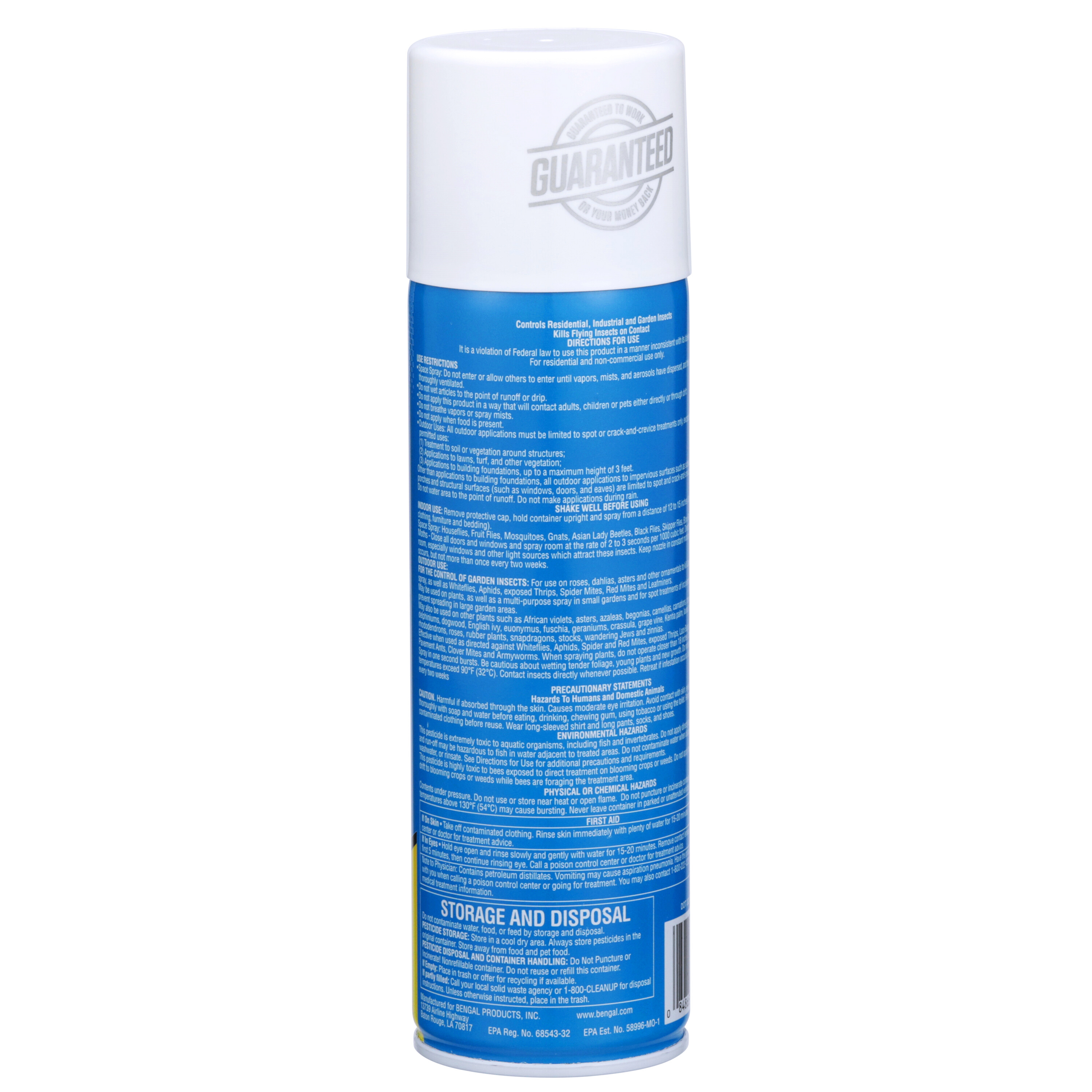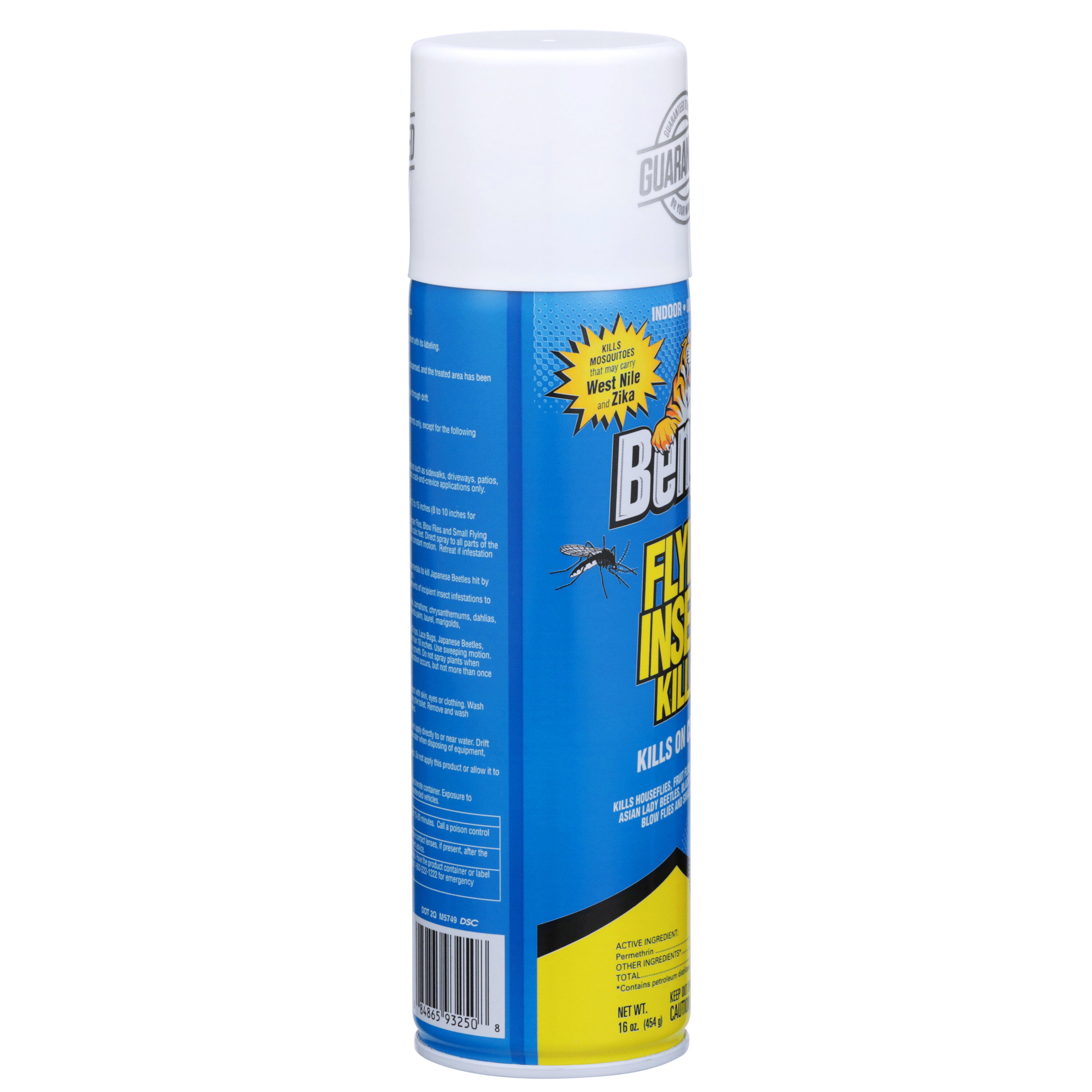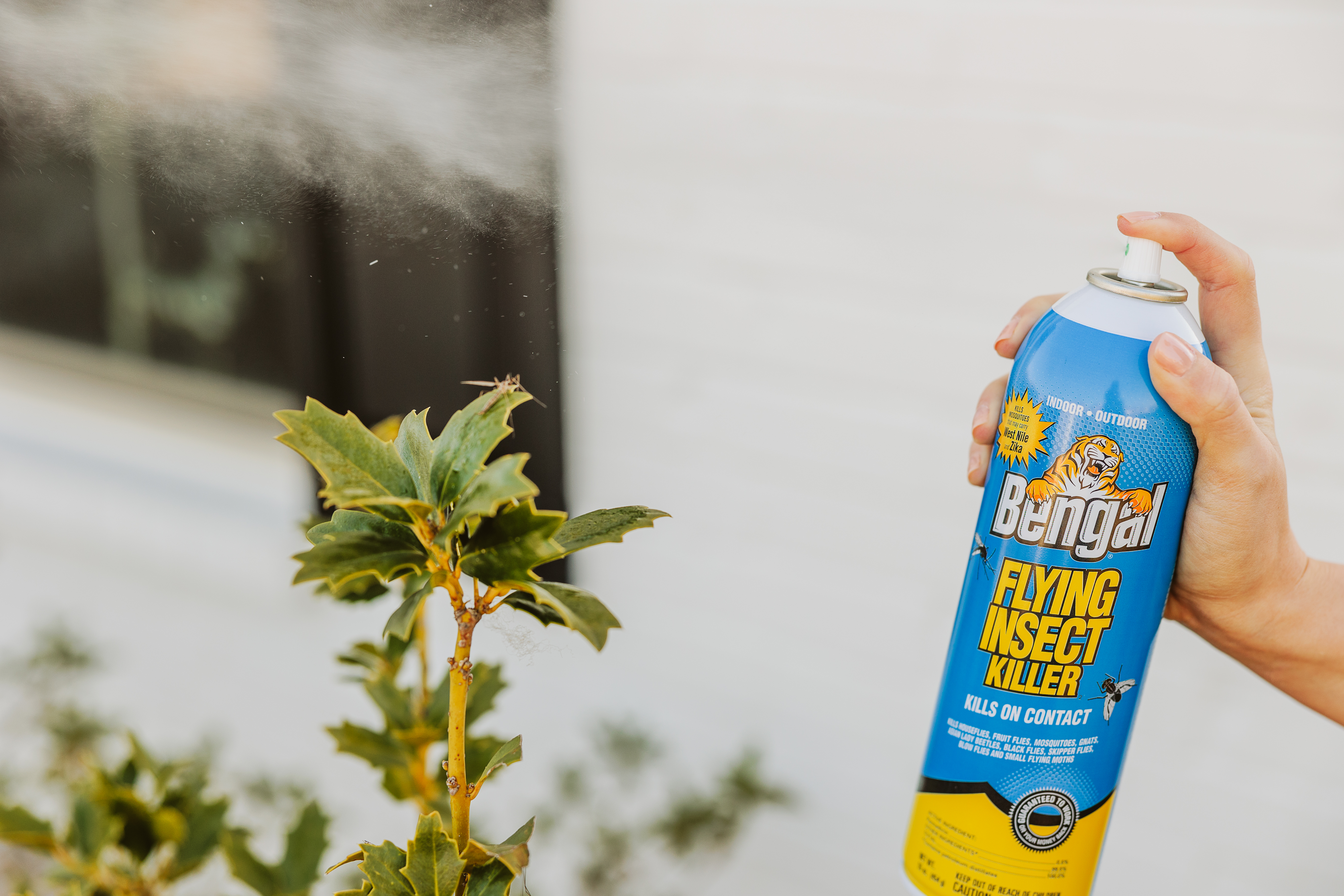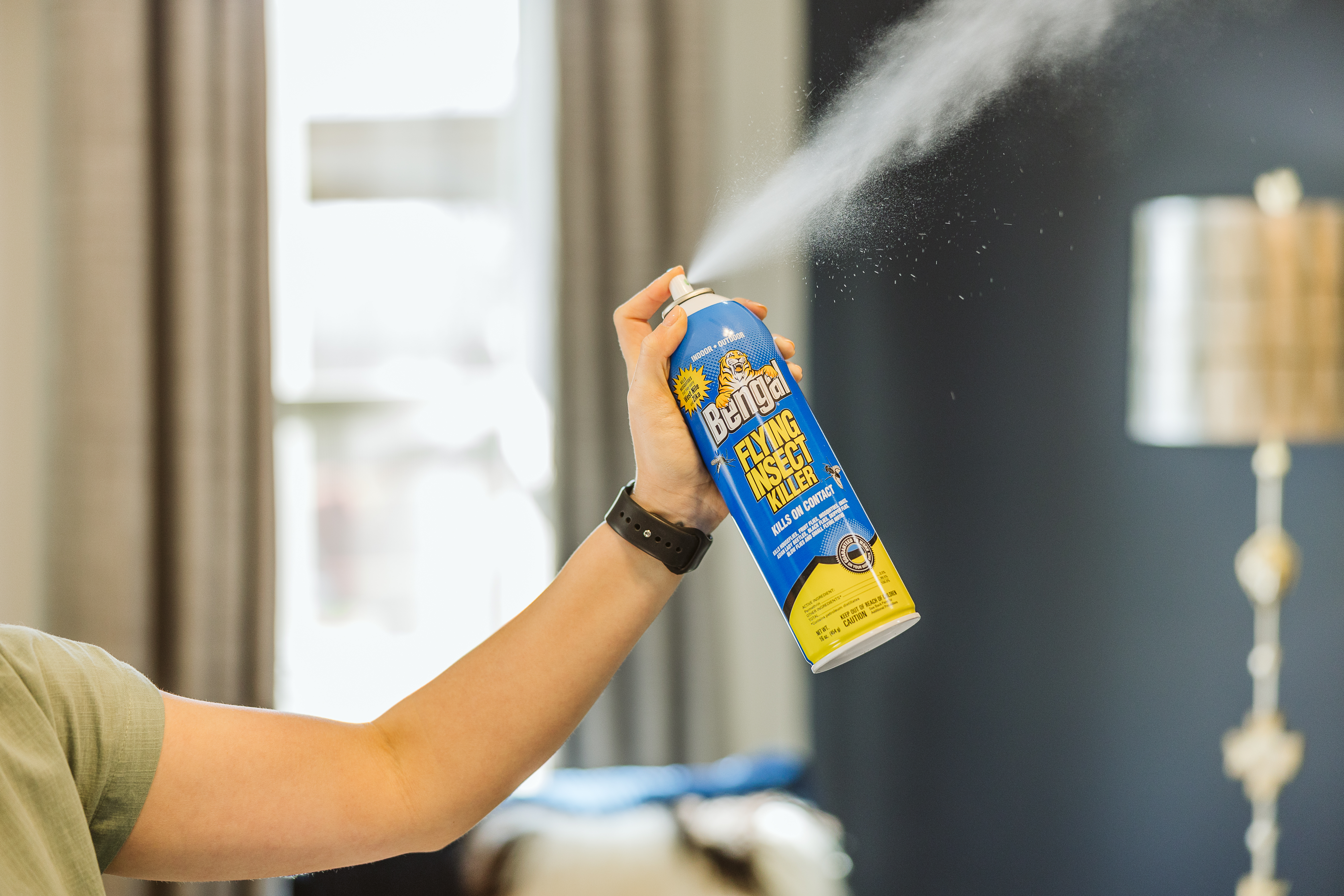 Beetles
Flies
Fruit Flies
House Flies
Gnats
Mosquitoes
Moths
Flying Insect Killer²
Keep your surroundings free of flying insects with the Bengal Flying Insect Killer 2. This 16-ounce aerosol spray provides a quick knockdown of flies, mosquitoes, gnats, small moths, and other flying pests. It also kills mosquitoes that may carry West Nile and Zika viruses.
Beetles, Flies, Fruit Flies, House Flies, Gnats, Mosquitoes & Moths
It's made for indoor and outdoor use and controls residential, industrial, and garden insects for up to 4 weeks. It quickly kills them on contact with a highly effective water-based formula. The spray doesn't leave behind oily, messy residues, so you can use it on most indoor surfaces. This product contains a 0.5% concentration of its active ingredient, Permethrin, an insecticide that is a powerful killing agent on insects.
Check availability
Please select your state to check availability We're sorry, this product is not registered for retail in your state Woohoo! This product is registered for retail in your state!
How It Works
The high percentage of Permethrin performs as a knockdown agent on flying insects.
It's easy to use - simply cover any exposed food and utensils and close all doors and windows prior to spraying, spray upward in short bursts toward the center of the room in a sweeping motion, and then sweep up and discard the fallen dead insects.
Is this product safe to spray if I have pets?
Bengal's products are safe for pets once they have dried on the surfaces, and the airborne vapors have cleared out. It is best to remove the pets from the treated area when the product is applied and keep them out until it is okay for them to return. This might be 30 minutes for Roach Spray and two hours for a carpet sprays like Full Season or Bedbug Killer.

Extra caution is advised for cats since they do not have the necessary liver enzymes to break down many pesticides. Do not get the pesticide on their food or water, and make sure that surfaces that they may contact are COMPLETELY dry.

Two hours is usually a safe interval for all the products, but may be longer in humid or chilly weather when it takes longer for the sprays to dry.
Why use the Bengal Flying Insect Killer?
Bengal Flying Insect Killer has more effective killing power than other similar products. It may be used both indoors and outdoors.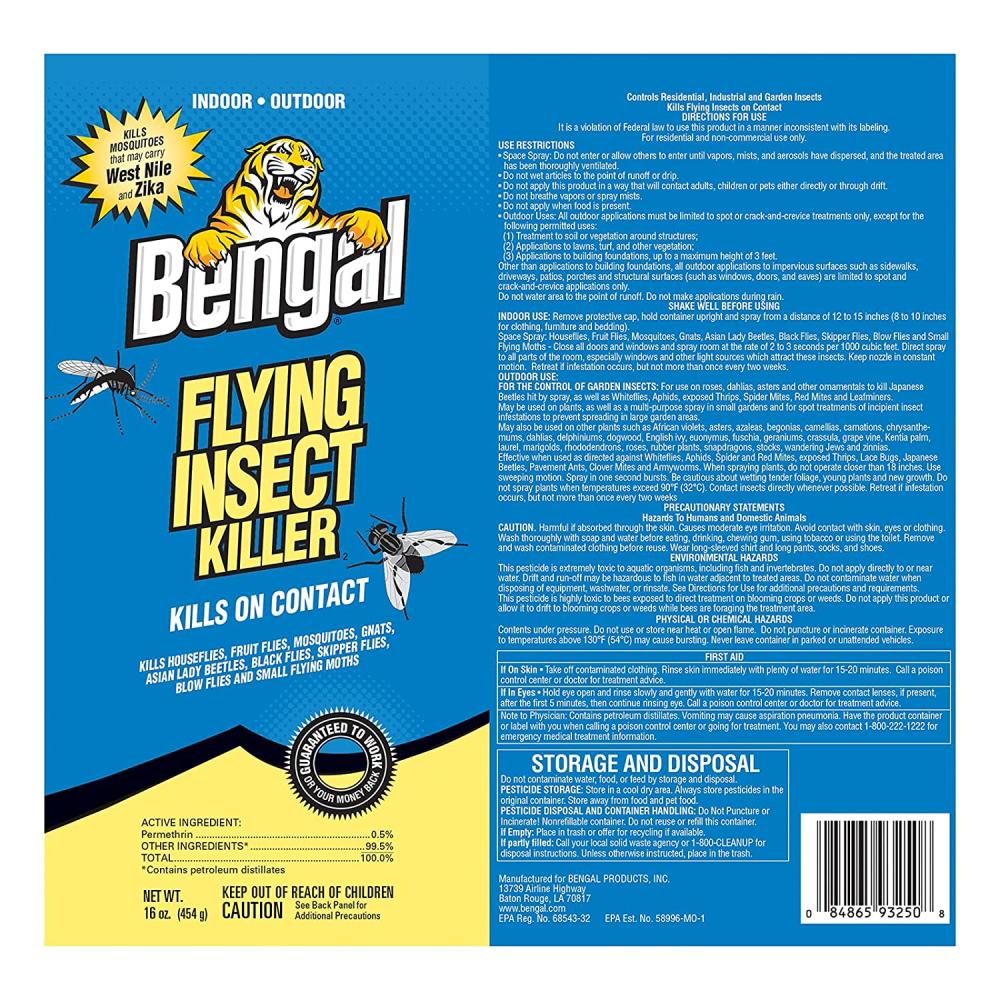 Highlights
Kills horseflies, fruit flies, Asian lady beetles, mosquitoes, gnats, and small flying moths

Indoor and outdoor use

Kills insects on contact

Controls pests for up to 4 weeks

Kills mosquitoes that may carry West Nile Virus and Zika
Customer Reviews
Lindsey H.

Low odor, gets the job done, family friendly product.

We had the (sarcasm) pleasure of dealing with (more sarcasm) THE WONDERFUL Asian Lady Beetles. If you've never heard of them, consider it a wonderful thing. These little beetles look exactly like lady bugs except THEY BITE (and leave red welps that burn, I was a victim.) I found them in my 1 y/o son's room, the bathroom, our master bedroom, our kitchen, the laundry room... EVERYWHERE! I originally used Raid as we had it under the sink like I assume every household does. I was hesitant to spray my son's room since the odor is pretty strong. My stepdad recommended that I get Bengal Flying Insect Killer. Desperately, I did. THIS PRODUCT HAS LITTLE TO NO ODOR!! It does have a smell but it is not a "bug spray" smell. I was able to spray my son's room and put him to bed in the room within 5 minutes! It killed the little suckers without having to fumigate and evacuate the house. Job well done Bengal, I am in LOVE with this product.
J. Richter

Great Product.

I'll write this review to speak up for this product. It's an excellent insecticide that has killed every insect, spider and tick I've used it on very quickly. It's permethrin, and permethrin is effective and relatively safe.

It also has NO perfume scent which is a plus. The can dispenses a very fine mist. Also a plus.

You can purchase this directly from Bengal for 1/30 the cost listed here, shipped. The price listed here is bizarre...I'm thinking it was meant to be a case price.

Top quality, nearly odorless, effective.