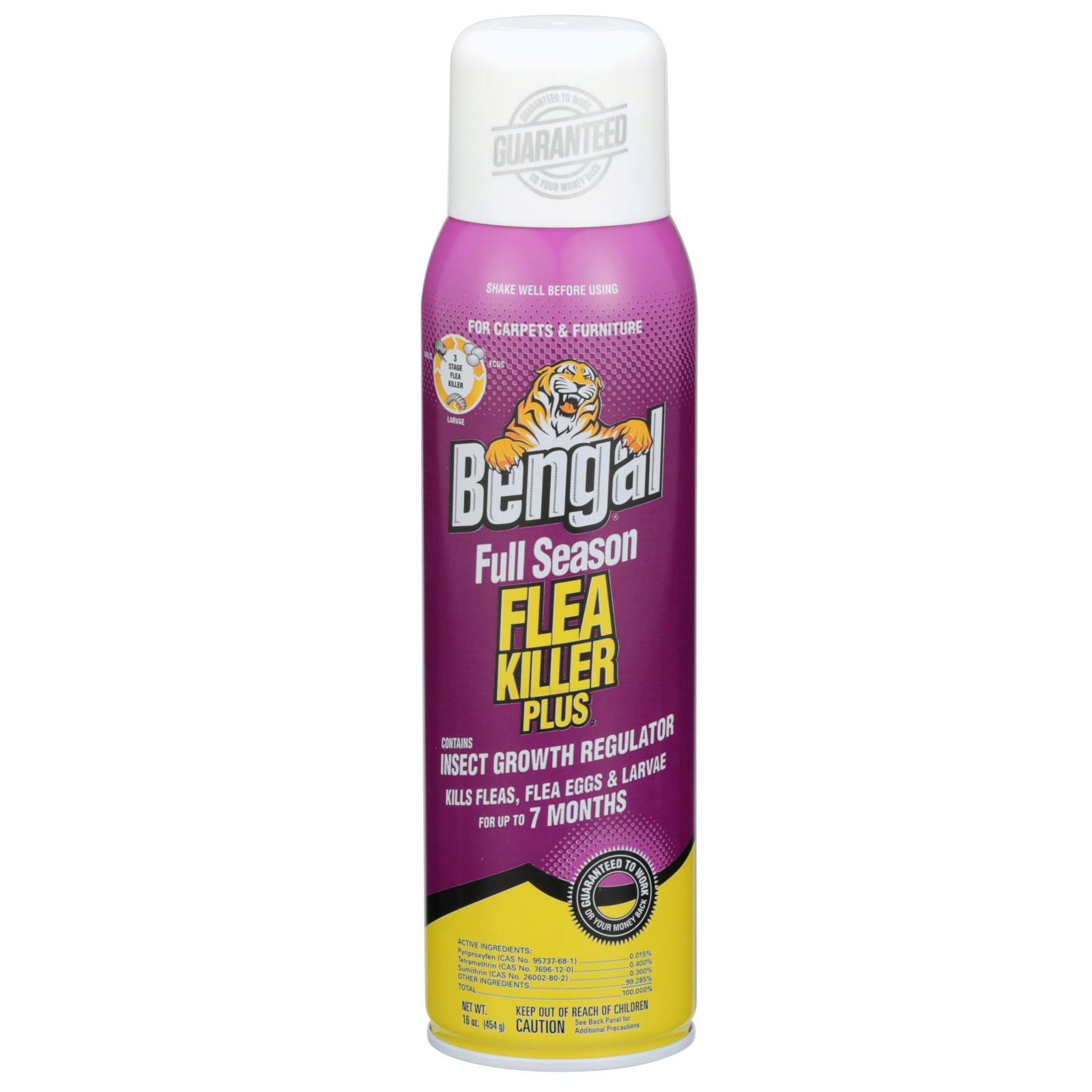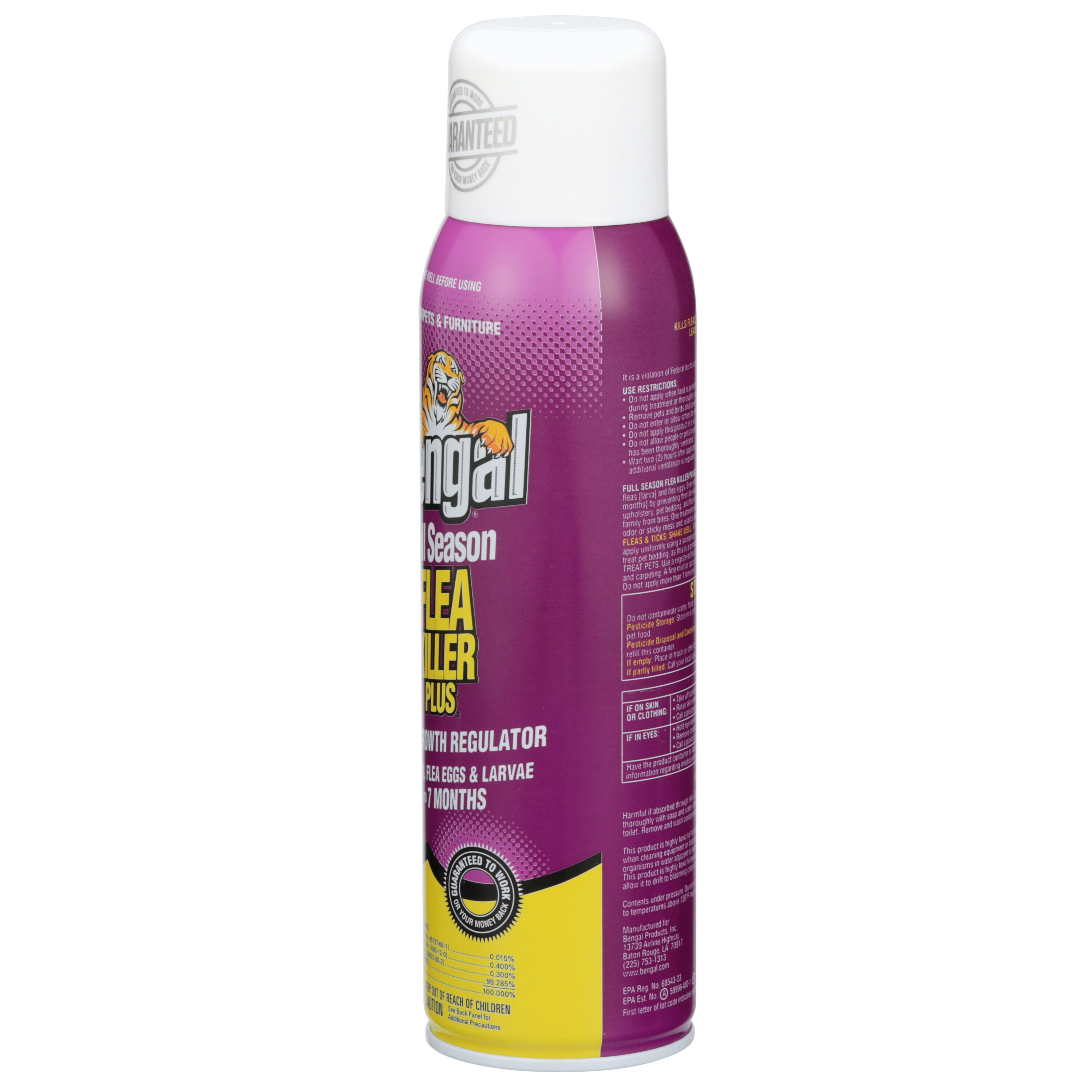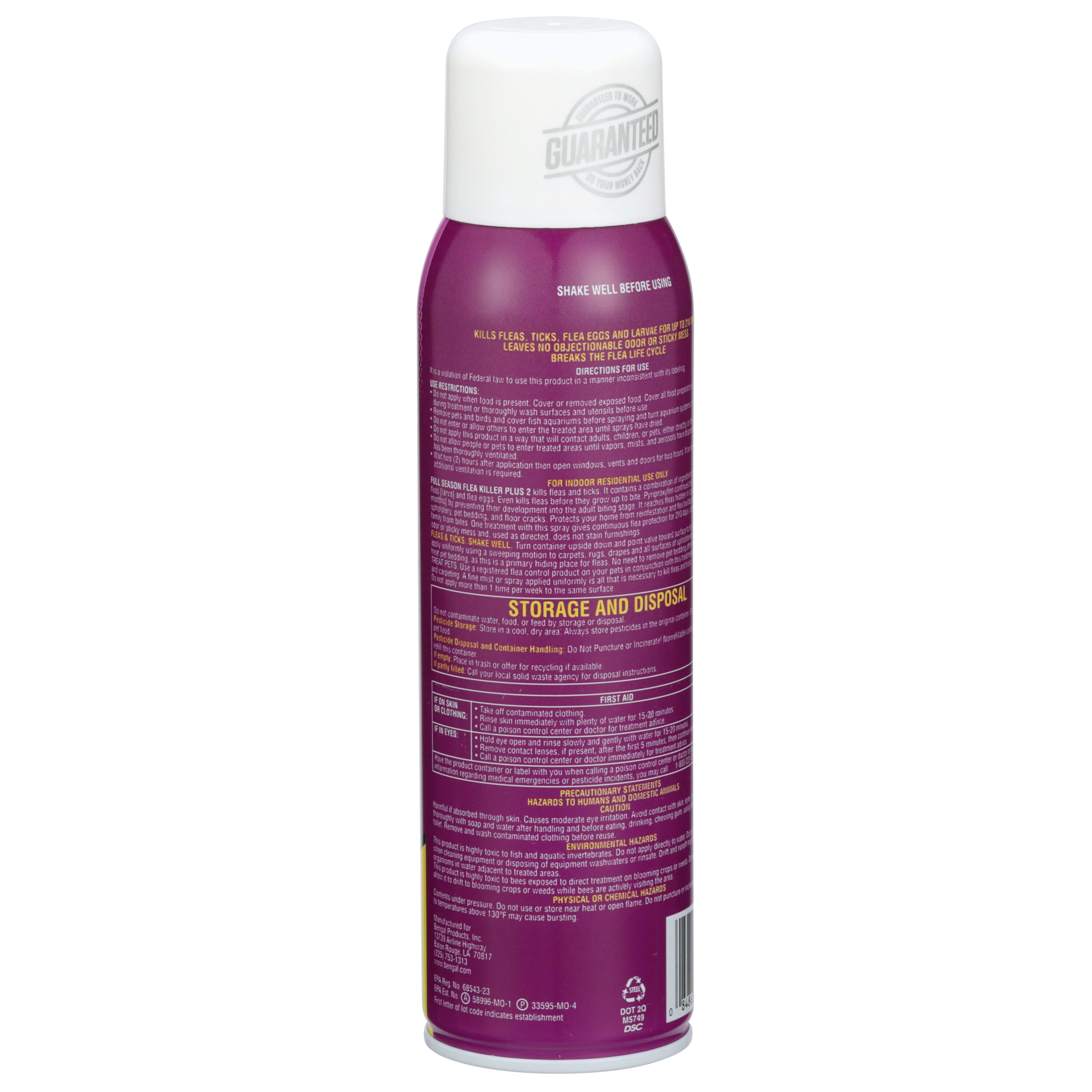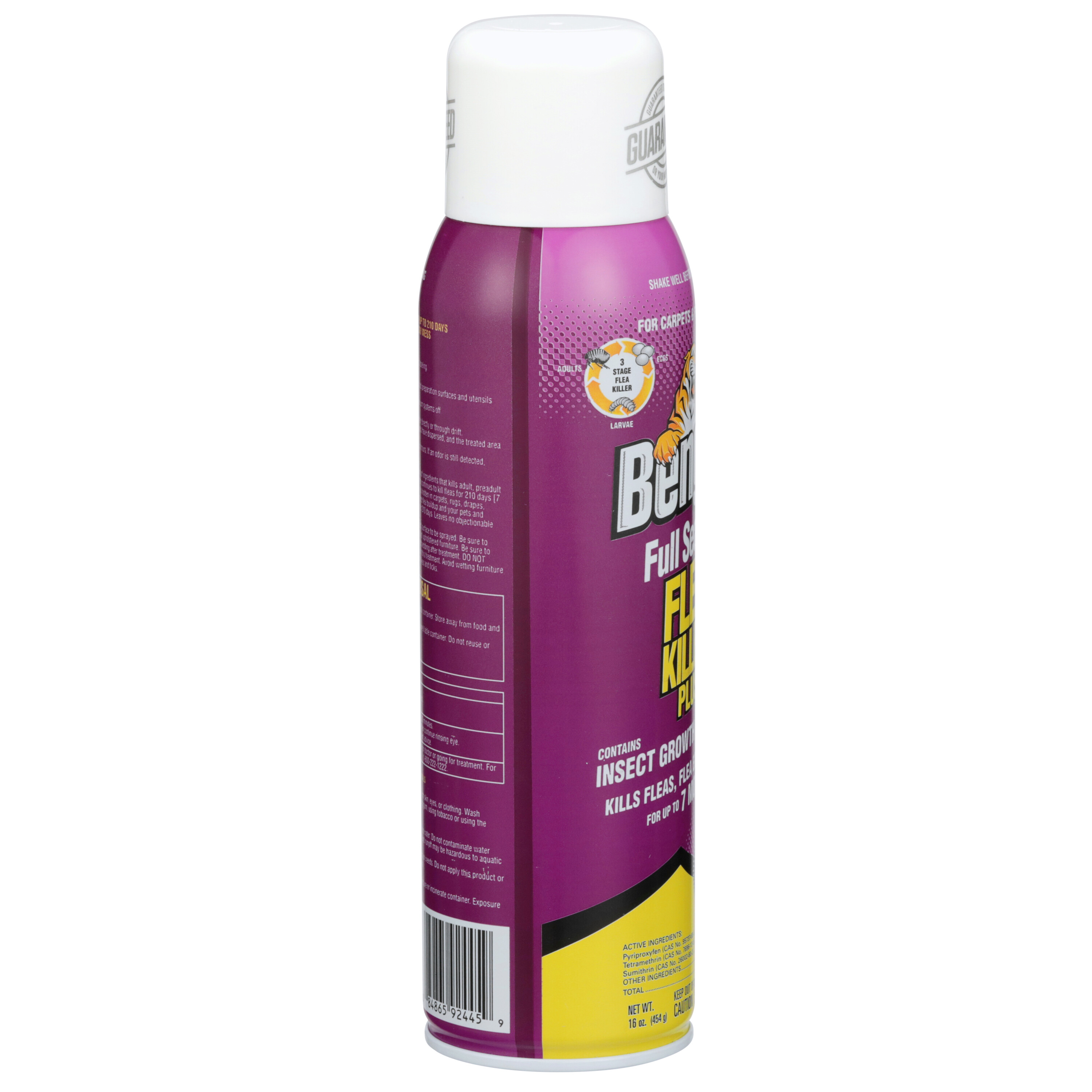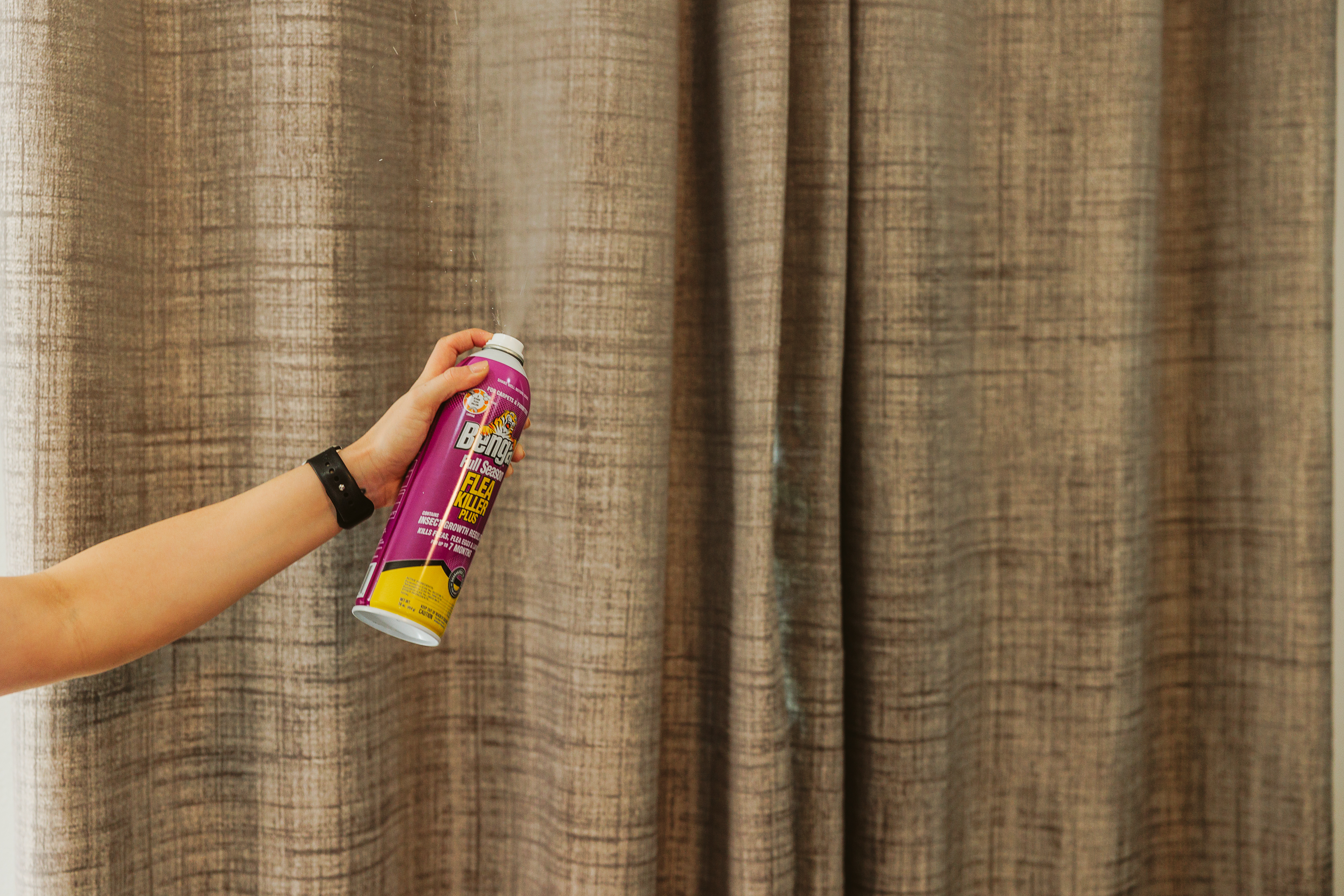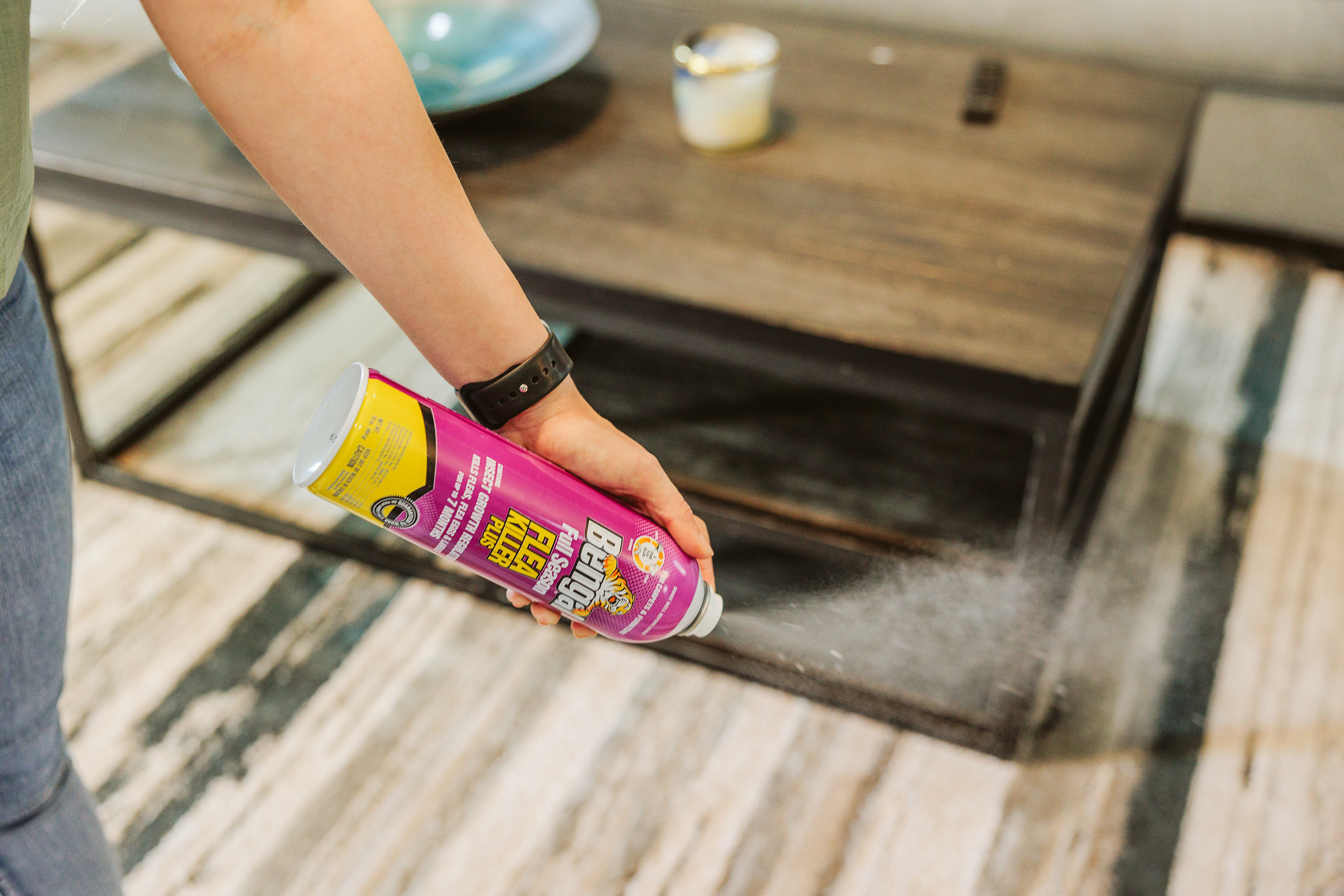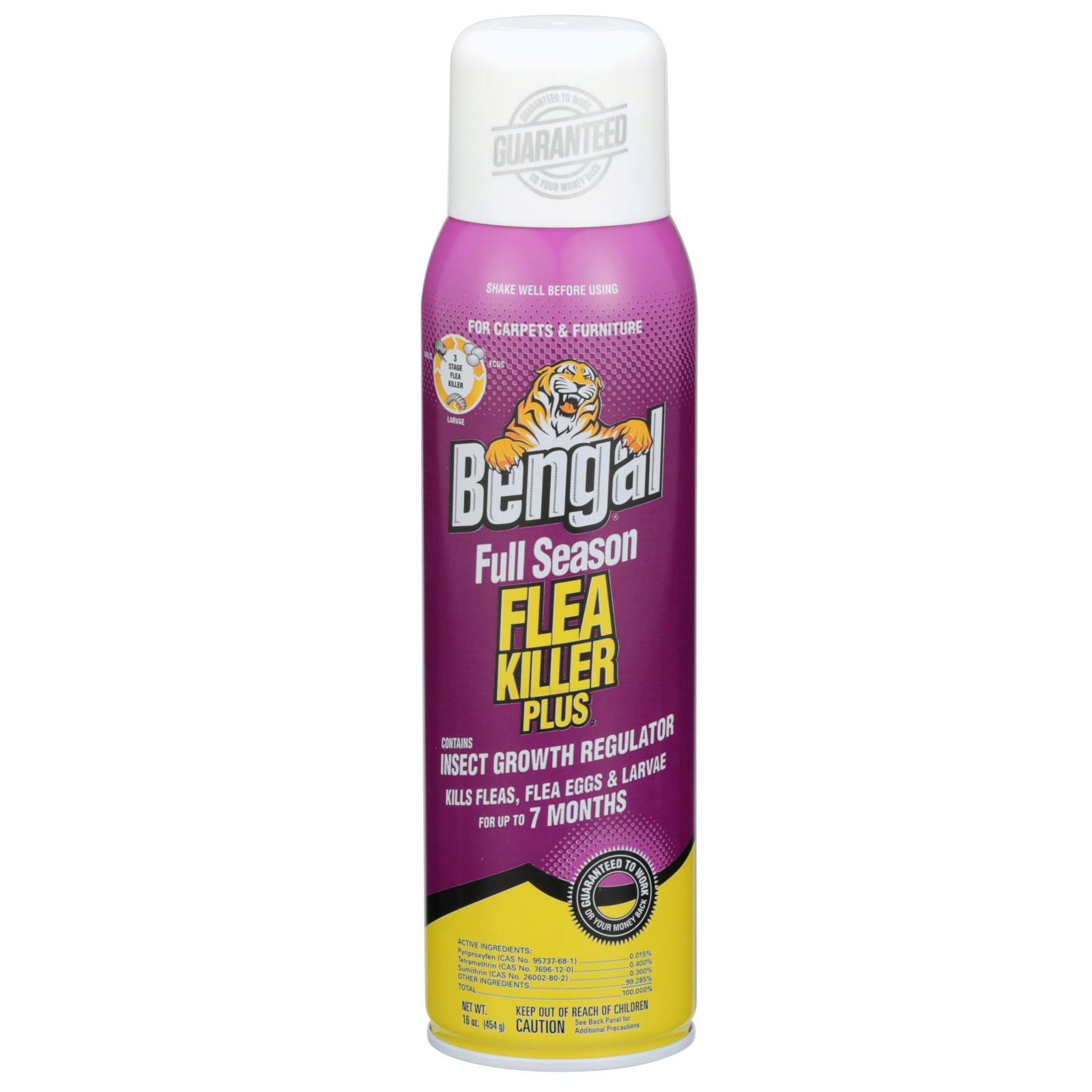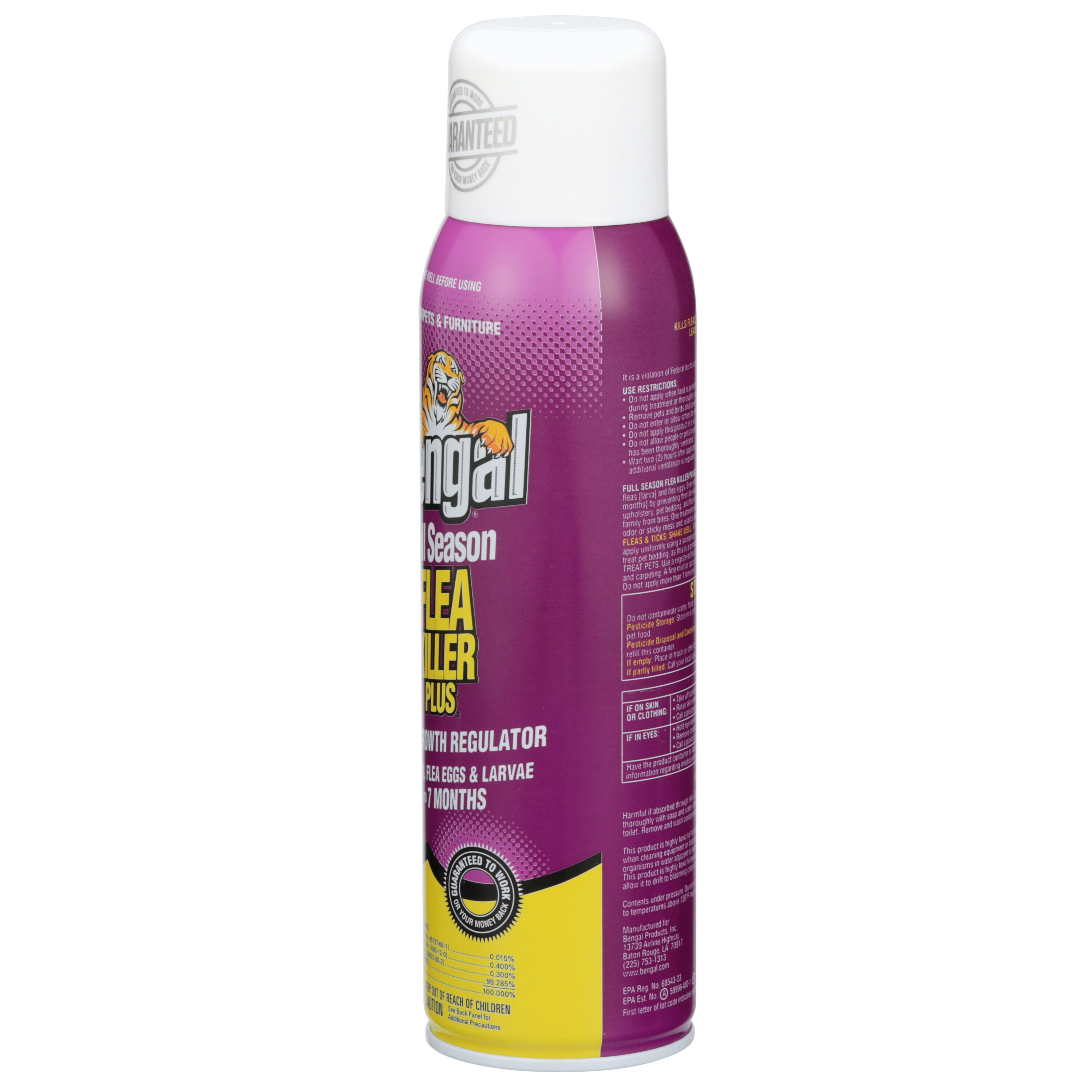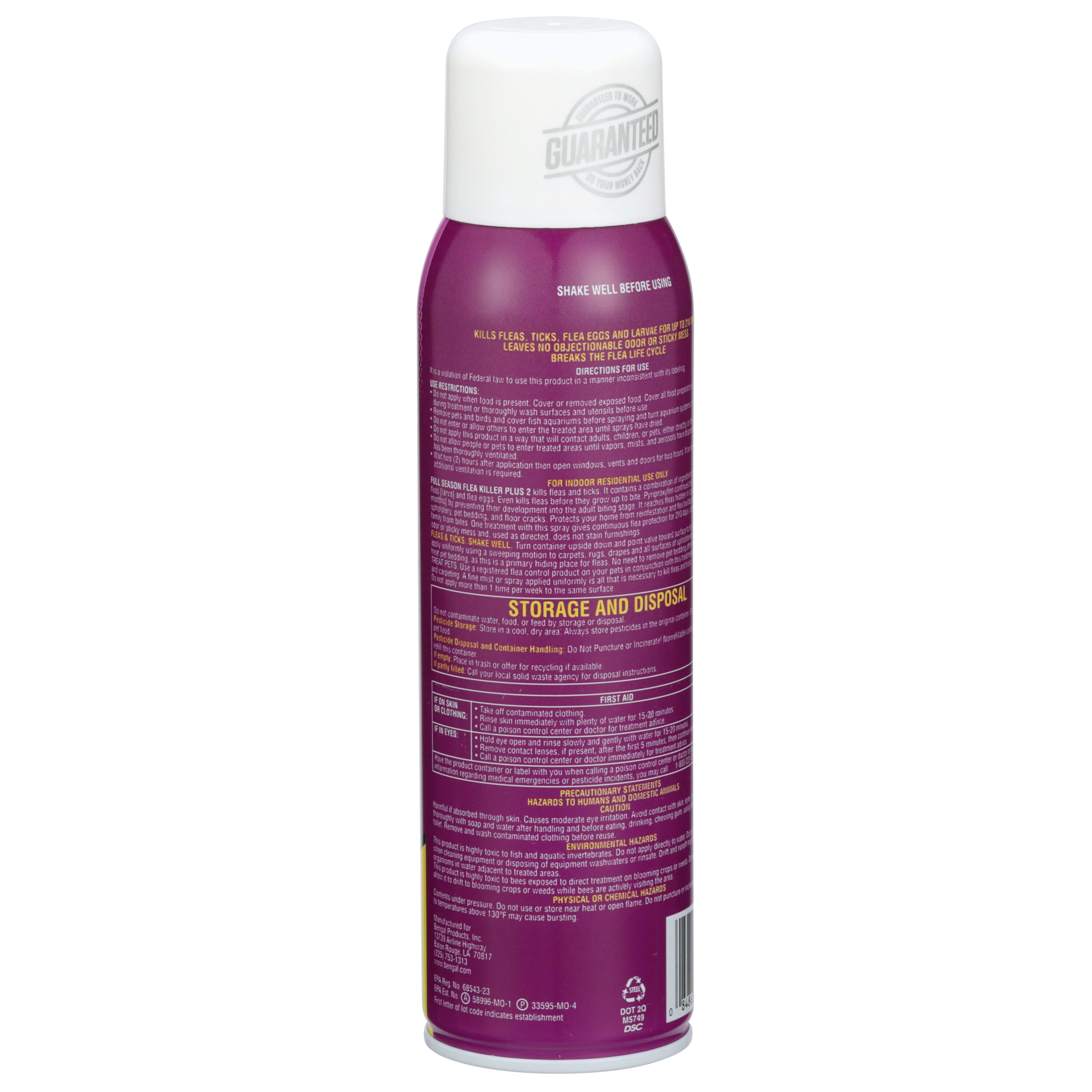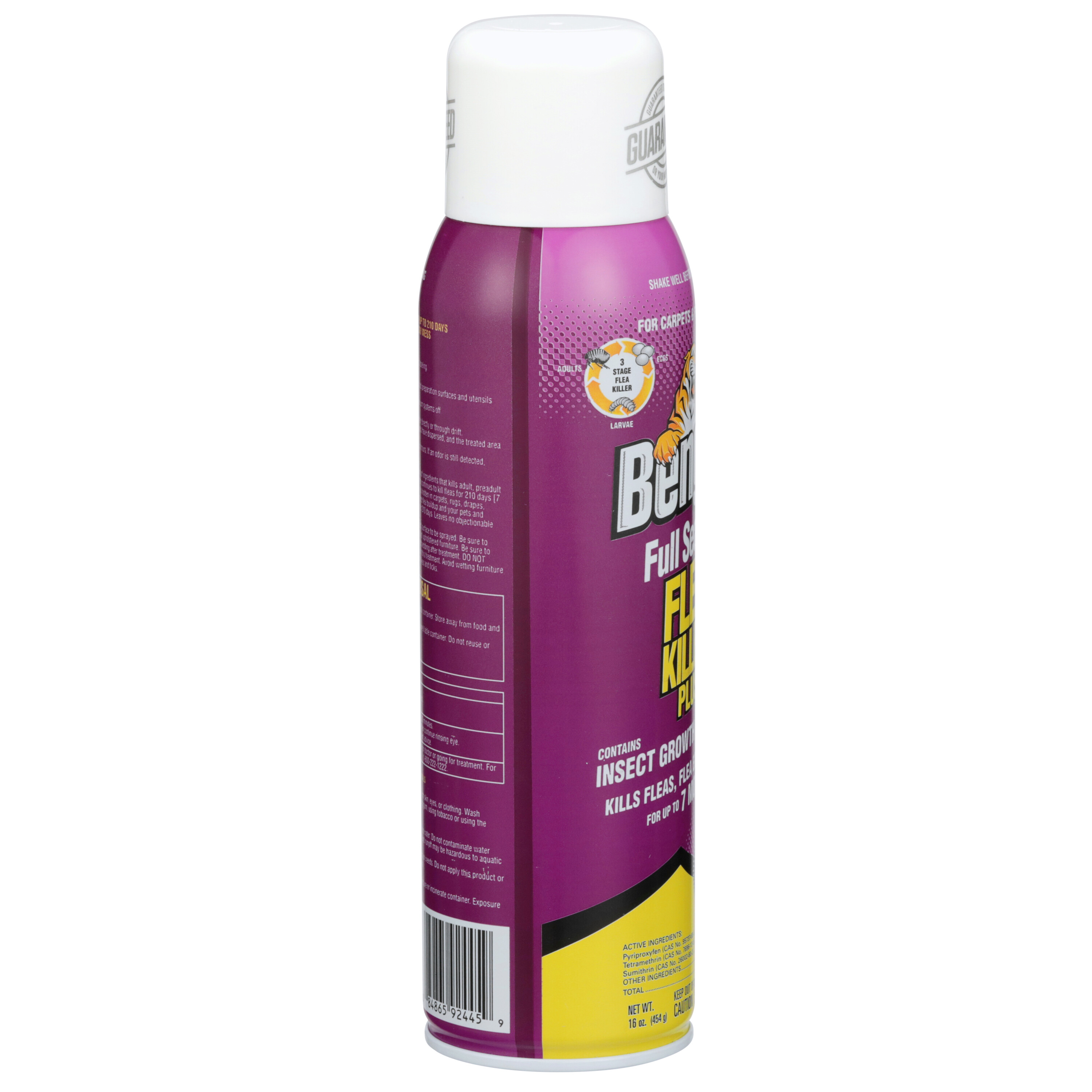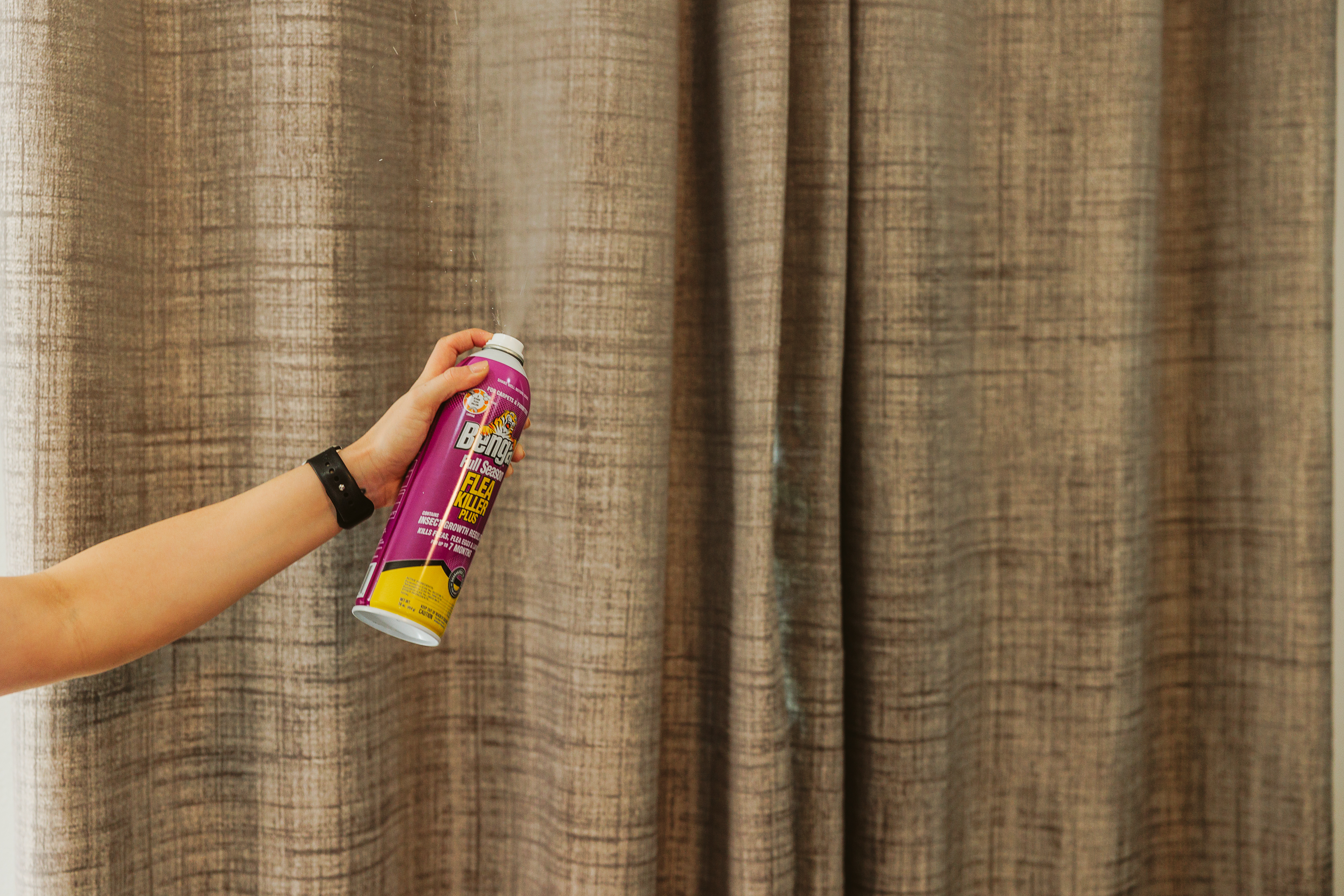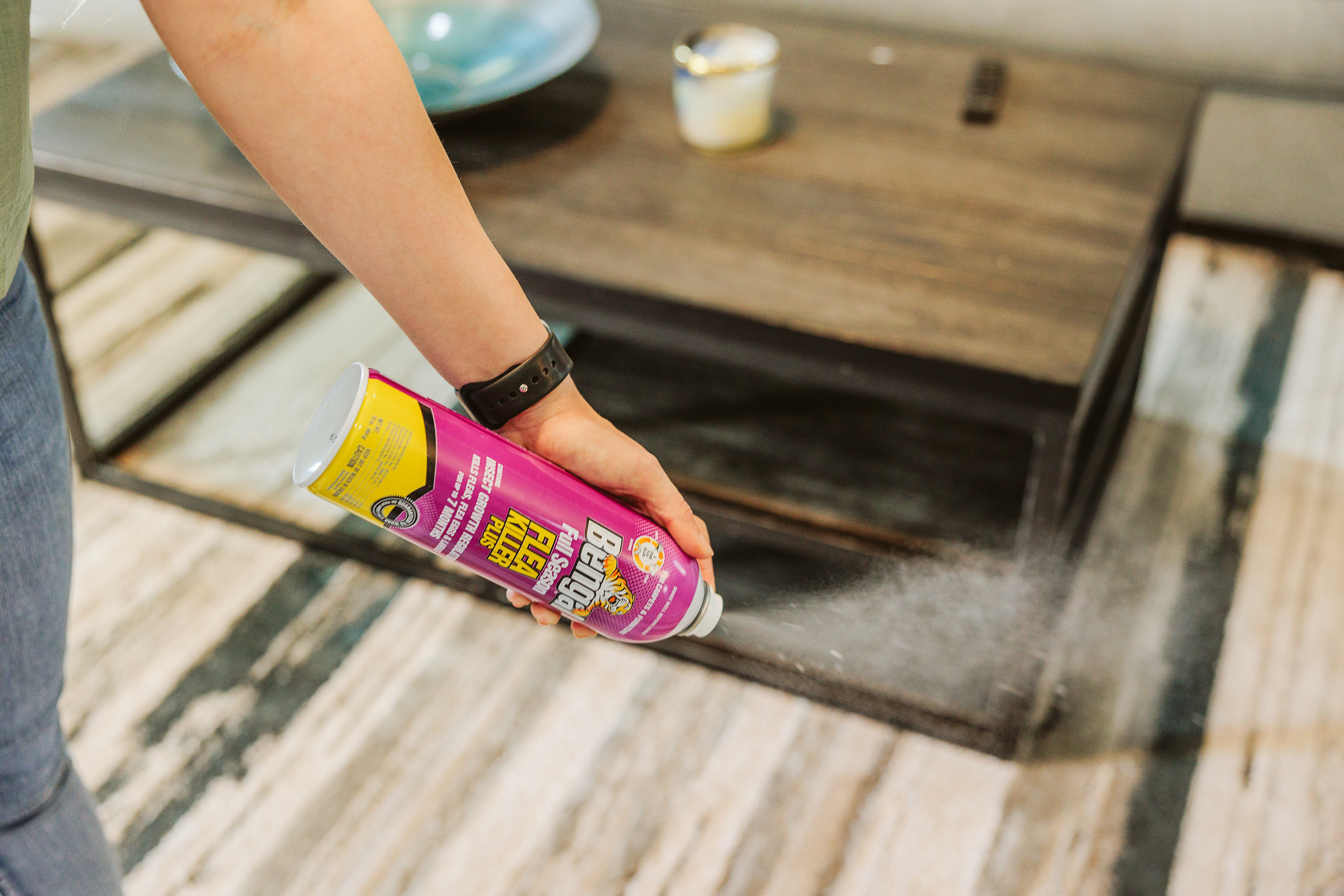 Fleas
Ticks
Full Season Flea Killer Plus
Keep your surroundings free of fleas and ticks with the Bengal Full Season Flea Killer Plus. This 16-ounce aerosol spray is an ultra-powerful three-stage flea & tick killer. It kills fleas at their adult, larvae, and egg stage. It contains an insect growth regulator that offers continuous protection from reinfestation of fleas for up to 7 months (210 days).
This product is an ideal home flea spray for pet owners, so spray on pet bedding to ensure a bug free pet space. Made for carpets and furniture, it quickly reaches insects hidden in carpets, rugs, drapes, upholstery, and floor cracks and won't stain furnishings when used as directed. For additional convenience, the product will spray at an upright or upside-down position to allow the spray to reach even the most difficult areas. The spray contains a 0.3% concentration of Sumithrin for superior killing power, 0.4% concentration of Tetramethrin for a quick knockdown of fleas, and also contains a 0.015% concentration of insect growth regulator, Pyriproxyfen, which mimics a natural hormone in fleas to break the lifecycle of the pests.
Check availability
Please select your state to check availability We're sorry, this product is not registered for retail in your state Woohoo! This product is registered for retail in your state!
How It Works
The Nylar in the product will also sterilize any roaches that come into contact with treated surfaces. Once dry, the material is firmly bonded to carpet fibers and does not rub off on pets or children crawling on the carpet. Works for 210 days by breaking the life cycle of the flea.
Turn container upside down and point valve toward surface to be sprayed. Be sure to apply uniformly using a sweeping motion to carpets, rugs, drapes, and all surfaces of upholstered furniture. Avoid wetting furniture and carpet.
Is this product safe to spray if I have pets?
Bengal's products are safe for pets once they have dried on the surfaces, and the airborne vapors have cleared out. It is best to remove the pets from the treated area when the product is applied and keep them out until it is okay for them to return. This might be 30 minutes for Roach Spray and two hours for a carpet sprays like Full Season or Bedbug Killer.

Extra caution is advised for cats since they do not have the necessary liver enzymes to break down many pesticides. Do not get the pesticide on their food or water, and make sure that surfaces that they may contact are COMPLETELY dry.

Two hours is usually a safe interval for all the products, but may be longer in humid or chilly weather when it takes longer for the sprays to dry.
What is the best type of home sprays to use?
Aerosols are the most popular versus trigger sprays with carpet powders pulling up the rear. Our Bengal Full Season Flea Killer Plus provides an optimum solution with a built in IGR to spray directly on furniture, pet bedding, drapes, and floor cracks to break the life cycle of the flea and kill ticks as well.
How do we get fleas in the house?
They can enter the house in 3 main ways; they can hop in from your yard, hitch a ride from your pet or you, or they may be left over from previous inhabitants. Fleas are constantly re-introduced into the home. Re-treatment of the pet, the home, and yard is recommended as often as needed for effective control.
Why do customers need to treat the pet, indoors, and outdoors?
Treating the pet without treating the home, and especially the yard will not achieve adequate control over fleas and ticks. If you do not initially treat all three areas at the same time, you will continue to introduce the fleas and ticks back into your home as they travel back and forth from the yard to the house. Bengal offers premium effective products that can used to treat and re-treat this problem as necessary in the house and the yard.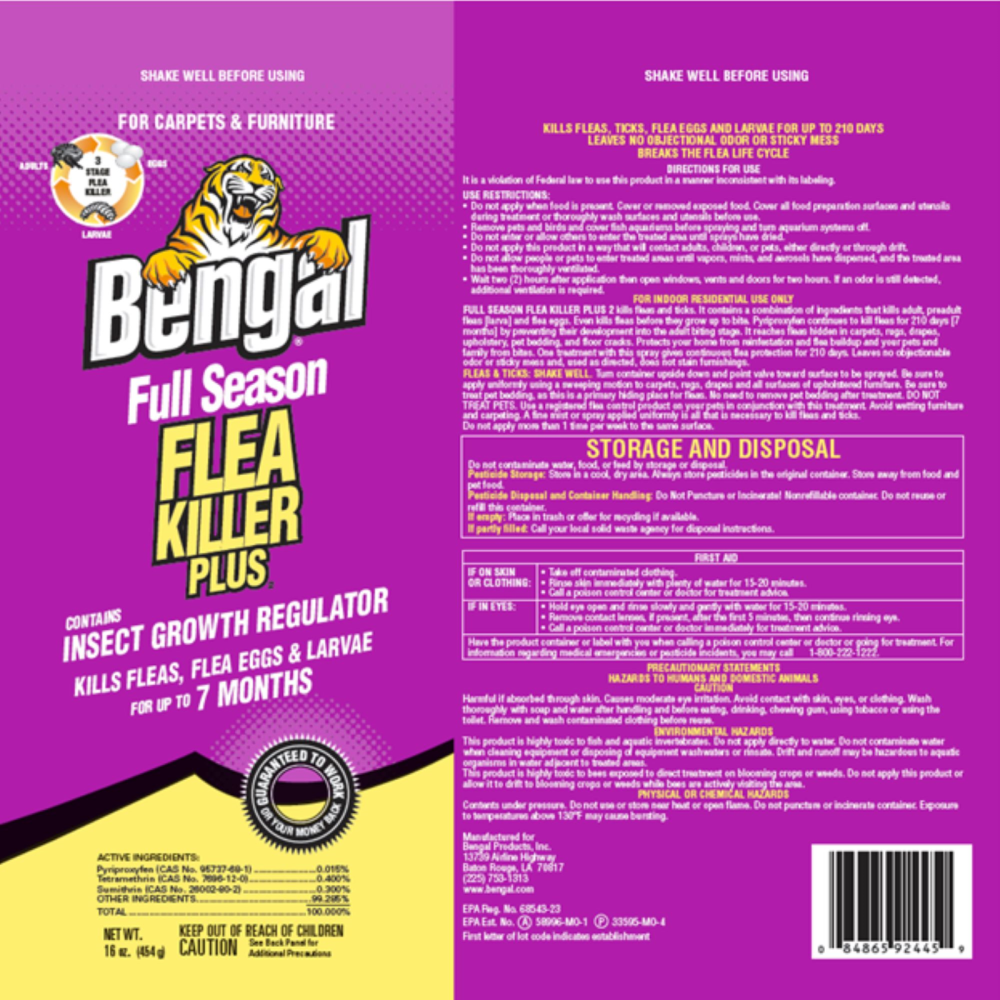 Highlights
Spray your pet bedding, upholstery & carpet

3 stage flea killer (eggs, larvae, adults)

Contains Insect Growth Regulator to break the life cycle of the flea

Kills ticks

Sprays upright or upside down

Continuous flea protection for 7 months